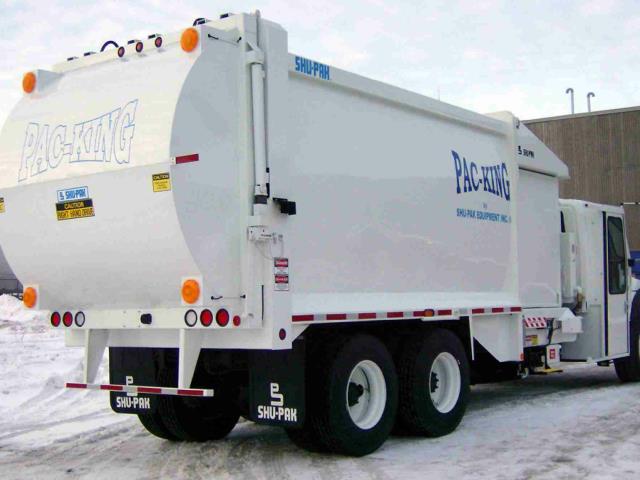 The "Original" Drop Frame Sideloader can be configured for manual, semi-auto, full auto or a hybrid of both.EARANCE

The Pac-King is the "Original Side Loader". Shu-Pak Equipment offers two versions of the Pac-King. The first is a single stream side loader equipped with an 18" deep packer and a low pitch in height. The second shares the same packer but can be split vertically to handle two separate streams. Available in 30/70, 40/60, 50/50, 60/40 and 70/30 or can be customized to suit.

Capacities from 29 to 40 cu. yd

Split body or Single Stream

Various tailgate arrangements

Dual under body hoist cylinders

18" deep packer with 5" ram cylinders and full width crusher panel on Single Stream Dual Crushers on Dual Stream,  approx. 1.4 cu. yd. capacity

Front or transmission mounted Vane or Gear pump with hydraulic over speed control

Electronic packer control with multi-cycle capability, switchable between 1-3-8 cycles

with the flip of a switch. No need to reprogram your truck

R.H. work brake with auto-neutral feature available for chassis equipped with Allison MD transmissions

Cab modifications available for stand up operation R.H. or sit down right hand drive

Top hinged hydraulic tailgate with 2 ½" bore cylinders equipped with throttle valves to prevent sudden descent in the event of hydraulic failure.

Installation to conventional or cab forward chassis

Two valve banks, one frame mounted behind cab to control hoist cylinders with manual over ride and one body mounted to control all other hydraulic functions. This system coupled with use of bulkhead fittings greatly reduces the use of hydraulic hose.